LIVE SUNDAYS 12:15 PM (U.K)
We are live on Sunday's at 12:15pm please click the below logo during that time to watch a short live message of hope from within the hall (Must be registered on Facebook). If you do not have Facebook, our videos will be posted below the live link afterwards to watch as recorded on our website (Feel free to click a link below to watch one of our services).
Or click the links below the logo, to watch our previous messages from YouTube.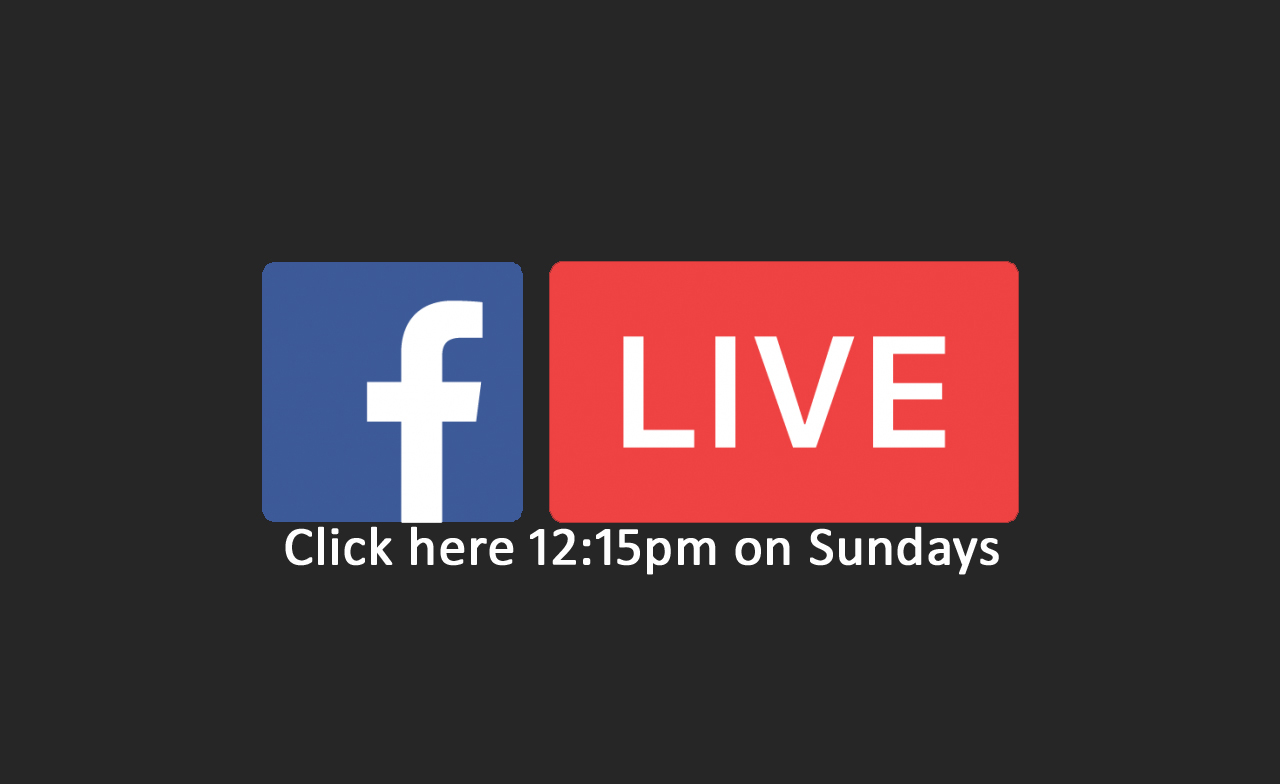 Previous short messages of hope - Click the blue links below to watch the short videos
(You do not need Facebook to watch the below short videos):
January 2022
Message of Hope - 16th January (The Crucifixion of Christ - 16 minutes)
Message of Hope - 09th January (Have you any room for Jesus? - 12 minutes)
December 2021
Message of Hope - 12th December (Where will YOU spend eternity? - 14 minutes)
Message of Hope - 05th December (Guidance from above - 18 minutes)
November 2021
Message of Hope - 28th November (Jesus is the answer to life's issues - 14 minutes)
Message of Hope - 21st November (God's righteousness Vs our own - 11 minutes)
Message of Hope - 14th November (Remembrance Day service - 12 minutes)
Message of Hope - 07th November (Knowing Jesus & Jesus knowing you - 15 minutes)
October 2021
Message of Hope - 31st October (What is a Christian? - 15 minutes)
Message of Hope - 24th October (Knowing Jesus - 18 minutes)
Message of Hope - 17th October (An analogy of Gods provision for us - 14 minutes)
Message of Hope - 10th October (Technology Outage + God is always in reach - 12 minutes)
Message of Hope - 03rd October (The will left at auction - 13 minutes)
September 2021
Message of Hope - 26th September (Picture Perfect - 12 minutes)
Message of Hope - 19th September (G.O.S.P.E.L - What does each letter mean? - 18 minutes)
Message of Hope - 12th September (Learning from the Sun - 16 minutes)
Message of Hope - 05th September (What is truth? - 18 minutes)
August 2021
Message of Hope - 29th August (Our Position and Condition in Christ - 19 minutes)
Message of Hope - 22nd August (Only ONE Gospel message - 16 minutes)
Message of Hope - 15th August (You MUST be born again - 15 minutes)
Message of Hope - 08th August (Gods way or our own way? - 12 minutes)
Message of Hope - 01st August (The eternal warning - 12 minutes)
July 2021
Message of Hope - 25th July (The warning behind the Gospel - 13 minutes)
Message of Hope - 18th July (Sins washed and cleansed - 8 minutes)
Message of Hope - 11th July (A free gift, accept it or reject it - 8 minutes)
Message of Hope - 04th July (Only ONE way to God - 8 minutes)
June 2021
Message of Hope - 27th June (A freewill to chose or reject - 10 minutes)
Message of Hope - 20th June (Having a clean record with God - 12 minutes)
Message of Hope - 13th June (Trust Pilot - 8 minutes)
Message of Hope - 06th June (Reserve your place in Heaven today - 10 minutes)
May 2021
Message of Hope - 30th May (A brush with death ~ Are you saved? - 10 minutes)
Message of Hope - 23rd May (Christ's completed achievement - 8 minutes)
Message of Hope - 09th May (Helpless in need - 8 minutes)
Message of Hope - 02nd May (A promise by God - 9 minutes)
April 2021
Message of Hope - 25th April (What hinders you to be saved? - 8 minutes)
Message of Hope - 18th April (The risen Prince - 8 minutes)
Message of Hope - 11th April (A tribute to a Prince - 8 minutes)
March 2021
Message of Hope - 28th March (False + True Christianity - 8 minutes)
Message of Hope - 21st March (Calling out to a life guard - 10 minutes)
Message of Hope - 14th March (God's SIMPLE plan of Salvation - 8 minutes)
Message of Hope - 07th March (What Salvation is NOT - 10 minutes)
February 2021
Message of Hope - 28th February (Turning to the Saviour - 11 minutes)
Message of Hope - 21st February (Another year older - 7 minutes)
Message of Hope - 14th February (A love from above - 10 minutes)
Message of Hope - 07th February (Free Gift vs Reward - 10 minutes)
January 2021
Message of Hope - 31st January (The meaning of Justification - 10 minutes)
Message of Hope - 24th January (No restrictions to this invitation - 10 minutes)
Message of Hope - 17th January (Famous last words - 13 minutes)
Message of Hope - 10th January (A new person in Christ - 9 minutes)
December 2020
Message of Hope - 13th December (Does God exist? - 11 minutes)
Message of Hope - 06th December (What is God saying to YOU? - 11 minutes)
November 2020
Message of Hope - 29th November (Redeemed to God - 10 minutes)
Message of Hope - 22nd November (Gospel Illustration - 7 minutes)
Message of Hope - 15th November (World Kindness Day - 10 minutes)
Message of Hope - 08th November (Remembrance Sunday - 8 minutes)
Message of Hope - 01st November (Facebook Friend Request - 9 minutes)
October 2020

Message of Hope - 25th October (Finding a loving Saviour - 9 minutes)
Message of Hope - 18th October (Bluetooth & connecting to Jesus - 9 minutes)
Message of Hope - 11th October (Lord, save ME - 9 minutes)
Message of Hope - 04th October (What is YOUR hope? - 9 minutes)
September 2020
Message of Hope - 27th September (Your sin debt cancelled through Jesus - 8 minutes)
Message of Hope - 20th September (The bible centres on Jesus - 10 minutes)
Message of Hope - 13th September (Jesus Christ is the ONLY way to Heaven - 10 minutes)
Message of Hope - 06th September (The Second Chance from God - 11 minutes)
August 2020


Message of Hope - 30th August 2020 (Behold NOW is the accepted time - 11 minutes)
Message of Hope - 23rd August 2020 (What Good, is Good Works? - 11 minutes)
Message of Hope - 16th August 2020 (God's free gift to you - 10 minutes)
Message of Hope - 09th August 2020 (The Good News of the Gospel - 13 minutes)
Message of Hope - 02nd August 2020 (The Pandemic of Sin - 11 minutes)